Your Zip Code:
Delivery Available
YOUR STORE:
Pickup Available
Levin's is excited to partner with our friends at Best Buy to offer our customers incredible free gifts with purchase*!
Here's how it works: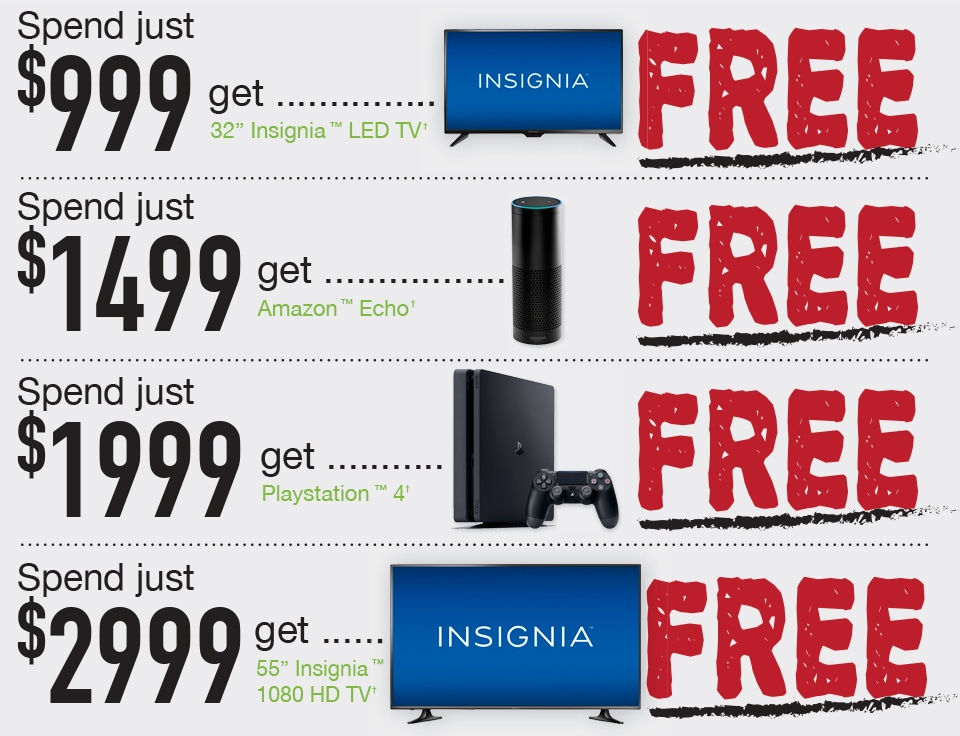 Start shopping! Add eligible items** to your shopping cart. **Outlet clearance items may not apply.
Free gifts will show in cart based on your spend eligibility. Select your free gift by clicking 'Apply' in shopping cart.
Complete online checkout.
Carefully read, print and fill out this form. In the form field, 'Levin Sales Order #' enter your sales order number which can be found in your order verification email. Look for an email from Levin Furniture levin@my.levinfurniture.com with the subject line, "Your Levin Furniture Order Payment Has Been Verified." Your sales order number will be in the top right corner.
Call the Best Buy phone number on your paperwork five (5) days after your Levin order has been delivered or picked up to arrange your pick-up or shipment of your free gift. Note, shipping cost will be at the customer's expense.
Please have identification with you upon pick-up of your free gift from Best Buy.
For further questions or information, contact Levin Customer Care at (844) 600-1795.
For further questions or information, contact Levin's Customer Care at (844) 600-1795.
---
LEVIN FURNITURE PROMOTIONAL OFFERS AND ADVERTISEMENTS ARE PRODUCED AND DISTRIBUTED BY LEVIN FURNITURE, AN INDEPENDENTLY OWNED AND OPERATED BUSINESS. BEST BUY IS ONLY RESPONSIBLE FOR PROVIDING THE PRODUCT TO SUPPORT THE PROMOTION. DELIVERY AND INSTALLATION ARE NOT INCLUDED WITH PROMOTION. OPTIONAL SHIPPING AND DELIVERY METHODS ARE AVAILABLE AT ADDITIONAL COST.
Limit one per customer. Not valid on prior purchases. Cannot be combined with any other promotional offers. Your product must be picked up or received by 11/08/17. If your product is claimed and returned, refund total will be less the retail value of the product.